NanoStix Prefilled Pods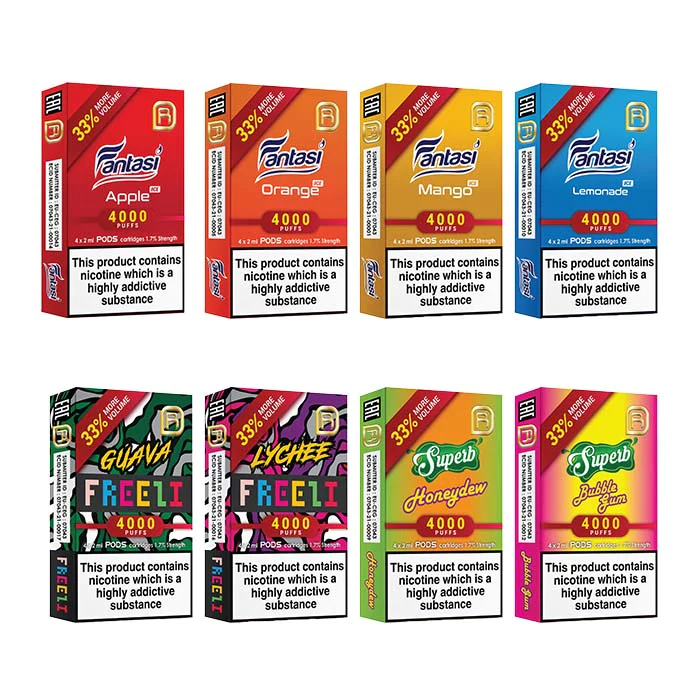 We're sorry we're out of stock, but we can let you know as soon as this product becomes available again.
Enter your details below and we'll email you once this item is back in stock.
NanoStix Prefilled Pods
NanoStix Prefilled Pods are a new generation disposable prefilled pods for the NanoStix Device. Simply remove the empty pod cartridge and dispose of safely and replace with a brand new 2ml pre-filled pod. A wide selection of 1.7% nicotine flavours satisfies the taste buds for all vapers.
These pods will only work with a nanoSTIX device and the e-liquid within these pods has been blended with nicotine salts, providing you with a smoother and stronger nicotine hit.
Each pack contains 4 prefilled pods at your chosen flavour.
Flavours:

Fantasi Grape Ice- Sublime red and green grapes with and ice cool blast

Fantasi Lemonade Ice- Sweet and sour fizzy lemonade with a cool sensation

Fantasi Orange Ice- freshly squeezed oranges with ice kick

Fantasi Apple Ice- A tangy green apple flavour with a perfect cool ice hit

Fantasi Mango Ice- Perfectly ripe fibrous mangos juiced into a glass of ice

Utopia Coffee- A strong and pure coffee on the inhale with a hint of chocolate and dried nuts

Utopia Coffee Hazelnut- A strong coffee flavour with a hint of hazelnut.

Velvet Banana Vanilla- A smooth and creamy blend of bananas with an element of sweet vanilla

Velvet Strawberry Vanilla- British summer strawberries with a vanilla aftertaste

Superb Bubblegum- A sensational combination of sweet flavours

Superb Strawberry Apple- Fresh strawberry and juicy apple blend

Superb Honeydew- An exotic blend of honeymelon

Superb Graple- Green apples complimented by rich wine

Freeze Guava- Exotic ripe guava with a cool sensation

Freeze Jackfruit- Sweet and fruity jackfruit with an icy kick

Freeze Lychee- Ripe Lychee flavour with a coolness

Tabac Menthol- Classic tobacco flavour with a ice twist

Tabac Classic- A smooth tobacco falvour with a hint of cinnamon
Box Contents:

2ml Pods cartridges 1.7% Strength- 4 pack
Get it fast with tmbnotes.co
We understand that once you have placed your order, you will be looking to receive your goods as soon as possible. If you complete your order before 1pm Monday to Friday, we will despatch your package the same day. Orders placed after this time will be despatched the following working day. We are not able to ship orders at the weekend or on public holidays.
Free deliveries
You will benefit from free UK delivery when you spend at least £40. If you qualify for free delivery, your package will be sent via Royal Mail Tracked 48®. This is a 2-4 days service. If your order is urgent, you can still choose the enhanced delivery service, Royal Mail Tracked 24®, but will be charged £6.50 for this.
UK delivery options
All orders are despatched via tracked Royal Mail services. If your package is not received in person, Royal Mail may use GPS data and photographic evidence as proof of delivery. Your despatch confirmation email will feature the tracking number you need together with a link to the Royal Mail Tracking system. You are also able to view the details of your order, including the tracking number, by logging into your account.
Royal Mail Tracked 48® £3.99
Tracked to delivery point
Delivery in two to four working days
Royal Mail Tracked 24® £6.99
Tracked to delivery point
Delivery the next working day but this is not guaranteed
Priority Royal Mail Tracked 24® £9.99
Order before 2.30pm for same day despatch
Tracked to delivery point
Delivery the next working day but this is not guaranteed
Please note that deliveries to Northern Ireland, the Scottish Highlands, the Isle of Man and other offshore islands may take longer than the quoted delivery aims.
International delivery options
We deliver to most European destinations. Packages are shipped via the Royal Mail International Standard service. Shipments cannot be tracked via this service and the delivery aim is 5-10 working days. Deliveries to remote locations and offshore islands may take longer.
We also ship to selected destinations outside of Europe. Packages under 2kg are sent via the Royal Mail International Standard service. Heavier packages are despatched via alternative providers including UPS, DHL and FedEx. The charges are as follows:
European destinations: £24.99
Rest of the World: £45.00
Where's your order?
The vast majority of shipments that we send do arrive within the delivery times stated above. However, occasionally, deliveries may be delayed due to circumstances beyond our control or that of the chosen carrier. If you feel that your order should have arrived but you have not received it, please contact us and we will do everything we can to locate your order and to achieve delivery.
Be the first to review this product.
Leave a review
Ian: how can you refill nanostix pod
Hi Ian,
Nanostix do not recommend refilling your pods, however I have seen quite a few videos on people successfully refilling so might be worth a try see video.
---
Gulam Sumar: How many puffs in each nanostix pod?
Hi
Each Nanostix pod has 1000 puffs, so a total of 4000 puffs per pack.
---
Mohammed: How do I know when my NanoStix is fully charged?
Hi
NanoStix has an LED power indicator which will turn red if under 3.6v indicating the battery is low. Anything above 3.8v the LED light will turn white which means the battery is fully charged
---
M: does nanostix contain nicotine?
Hi
Yes nanostix come with 1.7% or 1.7mg nicotine. A nicotine free version is not currently available.
---
Emma S: nanostix warranty Can you tell me the warrenty on this product pls
Hi Emma,
We offer 30 days warranty in store, however NanoStix offer 1 year warranty if you register your product.
---
Luca: nanostix charging, how long does it take.
Hi Nanostix charge with a micro USB and takes 45 minutes to charge.
---
Kazim: What is the best NanoStix flavor?
Hi Kazim
The great thing about nanoStix prefilled pods is the large range of flavours. Taste is subjective therefore if you like a fruity flavours Superb Graple and Superb Strawberry Apple are recommended, If you like coffee then Utopia coffee is a good option.
---
Chris Pugh: how long does a NanoStix pod last?
Hi Chris
NanoStix prefilled pods can last up to 2 days for frequent vaping and up to 2 weeks for infrequent usage. Each prefilled pod contains 2ml of E liquid which is approximately equivalent to 45 cigarettes.
---