Best Disposable Vape Kits 2023!!
Introduction
In recent times disposables vape kits have become very popular amongst vapers. Many E-liquid brands have introduced their best flavours in the form of a disposable. This has made vaping much easier for beginners and the convenience of replacing the vape kit couldn't be any easier.
If you are going out and do not want to carry a vape device around, disposable vape kits are light and pocket friendly which makes it easier to carry around. Another advantage of disposables is there is no need to refill the liquid as this is already pre-installed.
We all experience forgetting ours vape kits at home, with the accessibility of disposables and reasonable cost, there is always a way of purchasing a new one without spending too much money.
Over the last 6 months more of your favourite juice ranges have started to do disposable pod devices. Most disposable brands have introduced lower nicotine and in some cases 0mg which gives an option of vaping for the enjoyment of flavour.
Here I have compiled a list Best Disposable Pod devices out there at the minute.
The following are in no specific order, they are just my personal choices.
IVG is well nown for its sweet and delicious flavour range. The IVG 2400 boasts an impressive 2400 puffs per device the first TPD compliant pod kit on the market. The IVG 2400 disposable pod kit has a built in 1500mAh battery for a satisfying power output. The wide range of flavours include fruity, sweet, and menthol blends suitable for all kind of vapers.
Facts and Review:
E liquid Capacity- 4 x 2ml Pods
Nicotine strength- 20mg
Battery- 1500mAH
Number of Puffs- 2400
While the IVG 2400 Disposable Vape Kit has undoubtedly become a staple in my vaping repertoire, it stands out as an excellent choice. Cheers to IVG for crafting a disposable vape kit that truly goes the distance!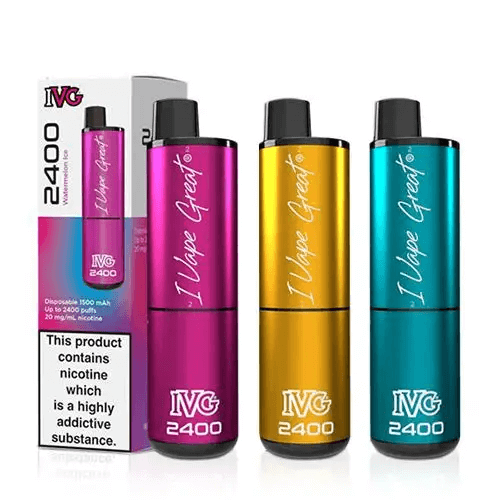 The Gold Bar disposable pod kit is a sleek and stylish vape kit with an impressive flavour delivery. The Gold Bar Disposable Pod Kit stands out with its luxurious design, reminiscent of a gold bullion bar. The metallic finish and compact form factor make it not only a pleasure to use but also a stylish accessory. It's a head-turner that adds a touch of sophistication. The impressive 500mAH battery allows a smooth vaping experience. Each pod kit prefilled with 2ml of e liquid with a 20mg nicotine strength.
Facts and Review:
Juice capacity – 2ml
Nicotine Strength -20mg
Battery – 500 mAh
Longevity – 600 puffs approx
In conclusion, the Gold Bar Disposable Pod Kit is a shining example of how elegance and performance can coexist in the world of disposable vaping devices. Whether you're a flavor enthusiast, a style-conscious vaper, or someone who values simplicity, the Gold Bar is a gold standard in disposable pod kits. A resounding applause to Gold Bar for creating a product that truly stands out in the crowded vaping market!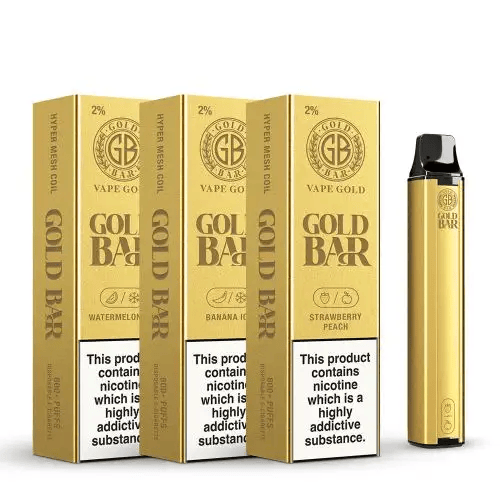 The Elf Bar 600 Disposable Device is one of the best-selling disposables on the market. With 600 puffs equivalent to 20 cigarettes. A pen style design captures the image of a cigarette which allows consumers to mimic smoking. The flavour range gives an option to suit any palate whether it may be fruity, cool, or dessert. Many new flavours are manufactured for a wider range to choose from. One of the top selling flavours is Energy Ice which has taken front stage with it's unique fizzy energy drink flavour with a refreshing coolness giving a smooth throat hit.
Facts and Review:
Juice capacity – 2ml
Nicotine Strength -0mg, 10mg, 20mg
Battery – 550 mAh
Longevity – 600 puffs approx
Elf Bar is a well established vaping brand which has improved on it's products throughout. The Elf Bar 600 can give a smooth throat sensation as well as satisfy nicotine cravings. With a powerful battery and many flavours to choose from this is disposable is a vapers dream.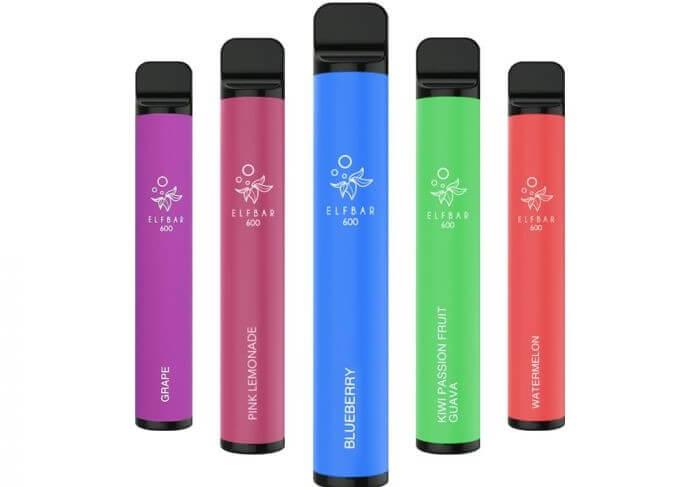 Crystal Bar by Ske is a sleek and stylish disposable pod kit with a unique crystal like design. Featuring a 1.2 ohm coil allows a smooth MTL vape due to pre-filled 50/50 e-liquid. The wide range of flavours give an option to experience fruity, citrus, dessert and cool flavours. The availability of the Crystal Bar in 0mg or 20mg allows vapers to either choose a flavour with nicotine as an aid to stop smoking or 0mg which is solely for the amazing flavour.
Facts and Review:
Juice Capacity – 2ml
Nicotine Strength - 0mg, 20mg
Battery – 500 mah
Longevity – 600 puffs approx

The Crystal Bar by Ske can be seen as a disposable same as any other. However the creative technology of designing and performance of the Crystal bar gives it an edge over many disposables.

The Lost Mary BM600 is a stylish and compact vape kit with packed with 2ml of delicious flavours. The best selling flavours are Blueberry Sour Raspberry, Triple Mango, Pink Lemonade and Marybull Ice. With an inhale activation system and no coils to change simply replace the device with another when LED light flashes at the base of the vape kit.

Facts and Review:

Juice Capacity - 2ml
Nicotine Strength - 20mg
Battery - 550mah
Longevity - 600 puffs

Overall the Lost Mary BM600 gives an smooth throat hit as well as plenty of flavour.




A new disposable on the market with a twist. The Happy Vibes Twist 3500 disposable device has 4 x 2ml tanks prefilled with 20mg nic salt flavoured E liquid making it TPD Compliant. Each tank has a mesh coil incorporated. Once one of the 4 tanks has completed simply twist the top of the device and a new cartridge will be active. The 1300mAh battery of the disposable pod kit is powerful enough and will last longer than the duration of the 4 cartridges.

Facts and Review:

Juice Capacity - 4 x 2ml
Nicotine Strength - 20mg
Battery - 1300mah
Longevity - 3500 puffs

An innovative disposable pod kit with a creative design. A longer lasting device compared to many disposable pod kits. A choice of the best selling flavours on the market. One of the best disposables of 2023.

If Nicotine is not for you, you might be interested in our blog on Top 10 0mg Disposable Vape Kits.