5 Best Sub-Ohm Tanks 2020
So you've arrived at this point. You're asking yourself some questions. You know you want a new sub ohm tank or need a whole new sub ohm vape. Welcome to the world of subohm vaping. You're in the best hands with a wide range of subohm tanks and vape juice we are able to fine detail the best and worst of the top tanks available today.
Some of the best tanks that have previous held this spot have been tanks such as the Hellvape Hellbeast, TFV8 Baby, SMOK TFV16, Mini v2, Uwell Valyrian, Uwell Crown, Uwell Nunchaku, Aspire Cleito, Cleito Exo and the more recent Cleito Pro.
He's tried them all from mech mods to squonk mod. Cbd oils to dry herb vapes. Always battery charger at the ready so lets get into into it and check out Mustang's vaping guide on the best sub ohm vape tanks to buy.


Freemax Fireluke 2:
Mustang's Rating: A solid 8.5/10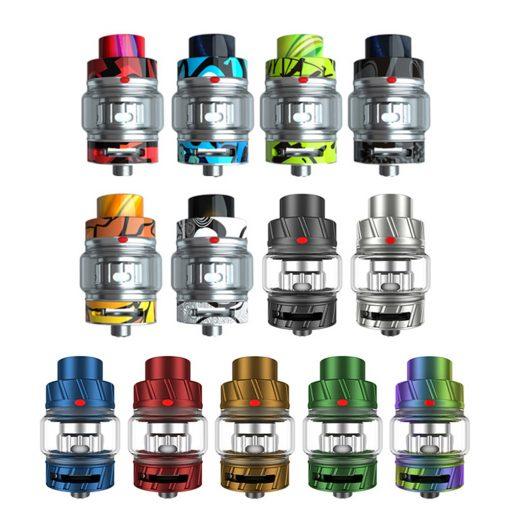 For anyone who has tried a freemax subohm vape tank you'll already know how good their tanks are and the Freemax Fireluke 2 is no exception. Theres a wide range in the family including the Freemax Mesh Pro.
The follow up to the Fireluke comes in a range of colours and designs that sit perfectly on top of the ever popular Twister sub ohm vape pen or any other box mods for that matter.
The tank is 24mm in diameter and holds 2ml of juice. There is a bubble Glass available that makes the tank at its widest 28mm and increases the juice capacity to 5ml.
The tank has a topfilling design with a sliding door and a dual adjustable bottom airflow which is smooth and less restrictive than it's sibling.
Sitting on top is an 810 drip tip which is always good to see and should fit most of your own 810 drip tips.
Whilst the Fireluke 2 will accommodate the original Fireluke coils it also has a range of vape coils of its own which lock in place with the standard screw in fitting that you usually find to replace coils:
TX1 – Single mesh coil coming it at 0.15ohm with a recommended wattage of 40-90w.
TX1 - SS316L coil coming in at 0.12ohms and is designed for all of you temperature-controlled vapours out there.
TX2 – Dual mesh Coil coming in at 0.2ohms with a recommended wattage of 40-80w.
TX3 – Triple mesh coil coming in at 0.15ohms with a recommended wattage of 50-90w.
TX4 – Quadruple mesh coil coming in at 0.15ohms with a recommended wattage of 40-80w.
TNX2 – Dual mesh coil coming in at 0.5ohms with a recommended wattage of 20-50w.
These new Fireluke mesh coils use a new, larger mesh which covers a greater surface area giving you the best of flavour and vapour.
Pros:
New range of coils. They are stunning and the flavour you get off of these is on point.
Great Flavour owing to the wicking material and coil head design.
Compatibility with the original Fireluke sub ohm coils.
Extra bubble glass available inceases to 5ml tank capacity.
Comes in many designs and colours.
Cons:
Sometimes leaky airflow, usually down to over filling.
Verdict:
I own a twister kit as I thought it looked cool, not because I had heard it was good. I was blown away by the Fireluke tank that came with it so much so that I benched my other sub ohm tanks for a long while. I wasn't expecting much from the Fireluke 2 tank as I just didn't think there was too much room to improve but I was pleasantly surprised.
The airflow is not as not as loud on the inhale and is smoother, the coils are superior with great wicking material and as a result the flavour is awesome.
I have not been disappointed with this tank at all even after I filled it too much and got a leak.
Horizontech Falcon 2 Tank
Mustang's Rating: 8/10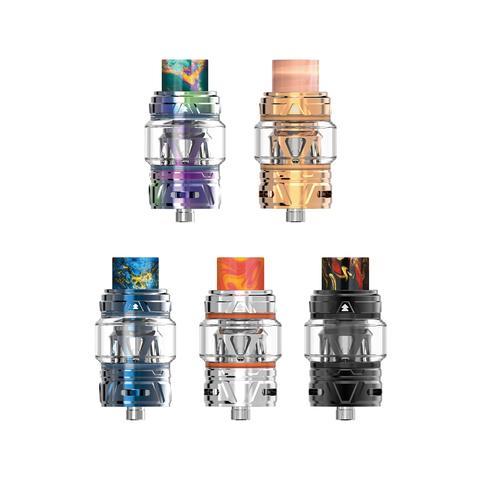 The Falcon King subohm tank was probably my favourite direct to lung tank for a long time so when the Falcon 2 hit the shelves it was a no brainer for me to buy one and test it out.
The Horizon falcon tank comes in numerous colours there's rose gold, rainbow, carbon blank, stainless and finally blue.
The tank measures 25mm at the base and this slim number means it will fit a massive number of mods that are out there in the marketplace however it may not appeal to those looking for a more chunky fitting and make look a little drowned on a larger mod.
It has a top fill design much similar to the Falcon King however instead of the top flicking to the side to reveal the fill port the Falcon 2 has a push slide system that is stiff to move which is always a good thing if you want to stop leaks. The kidney bean shaped fill hole is a decent size and I had no problems filling up with vape juice.
Drip tips on this tank are 810 and should fit most of your own 810 drip tips. The coil heads fit into this tank via a push fit system which in my opinion is better than the screw in coils.
As far as I have seen there is only one type of coil for the Falcon 2 which are the Sector Mesh coils reading 0.14ohms and best vaped between 70 and 75w. It is my understanding that more coils will be released at a later date. Whether using it with wick liquor or Twelve monkeys short fill this tank will outshine others with its vapor production and flavour. This is a pro subohm tank.
My coils lasted around 1.5 to 2 weeks but this will depend on the vape juice you are rocking in the tank.
The adjustable airflow on the tank is located at the bottom. I found the airflow very tight at first but it has got gradually better with use.
Pros:
Top fill being a slide mechanism. Tight enough to not open in your pocket.
Push fit coils with no leaking issues.
Smooth and quiet adjustable airflow.
Amazing Flavour.

Cons:
Adjustable airflow is very stiff.
Extremely limited coils options.
Overhyped release
Verdict:
Don't get me wrong this is a solid tank with great flavour, cloud and design but it didn't do enough for me. The improvements from the Falcon King to this tank were good but the overall vape experience was on par. If you already have the Falcon King there is no need to purchase the Falcon 2. If you DON'T have the Falcon King then go for the Falcon 2.
Aspire Odan Sub Ohm Tank:
Mustang's Rating: 9.5/10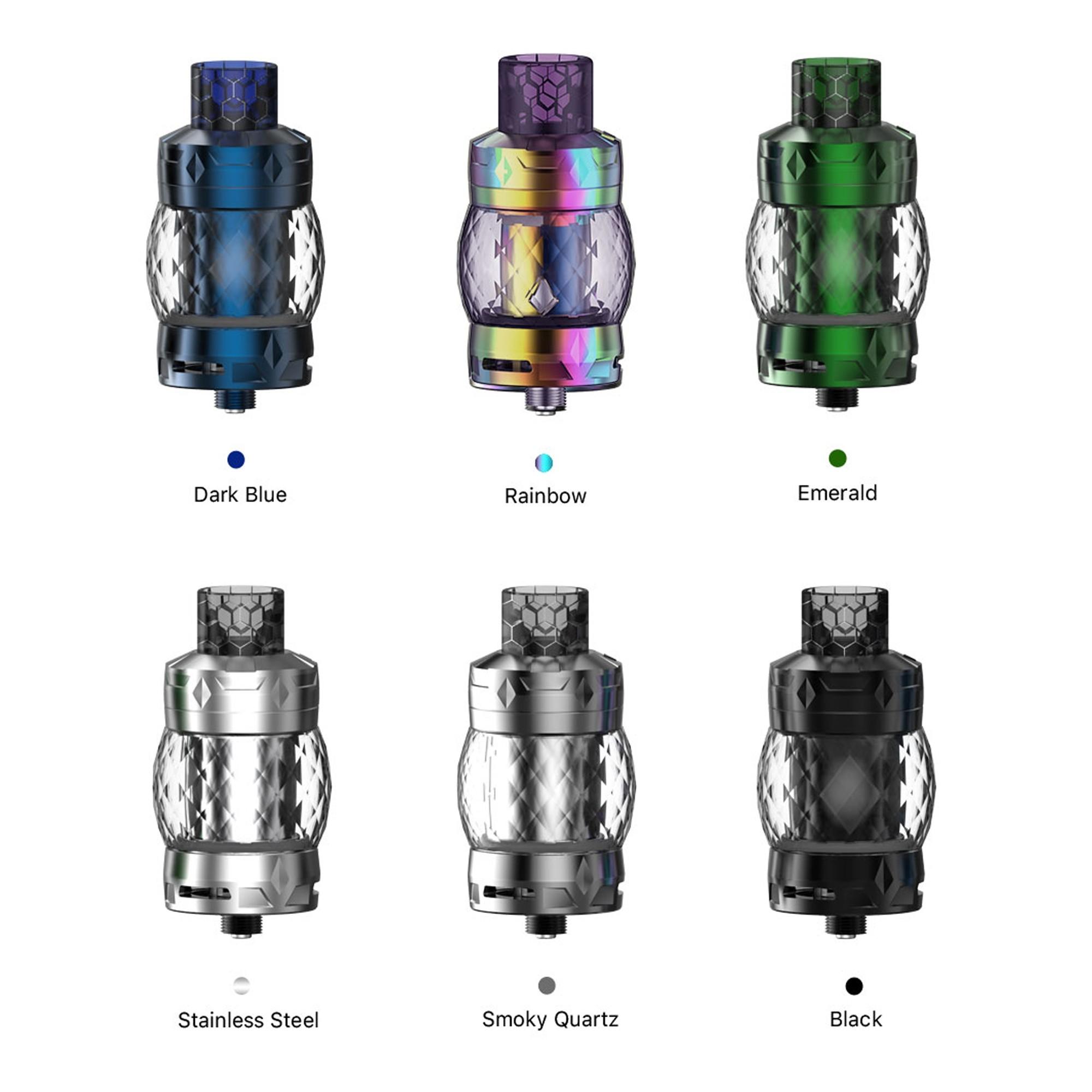 Honestly, I would never have bought this tank if I hadn't tried a friends.
We all know who Aspire are, they are the geniuses who brought us the range of Aspire Nautilus MTL Tanks. They are experienced in the mouth to lung vaping category. Well they have now delivered an outstanding cloud chaser sub ohm tank named the Odan and I mean OUTSTANDING proving they aren't only restricted to creating some of the best mouth to lung tanks.
The Odan is 28mm at the base so can overhang on a large majority of vape mods and comes in an array of colours such as blue, emerald, rainbow, smoky quartz, stainless and finally black. This is definitely a tank for cloud.
I personally have the Blue tank as it sits on top of my Odin DNA250C mod with Blue Battery Wraps.
The tank comes with a 2ml tank installed and has a spare bubble glass which will take the tank capacity to 7ml.
If you want the tank to look even more amazing you can purchase the Diamond Glass which due to its design is a little bit more hard wearing and has an overall tank capacity of 5ml.
The included 810 Drip Tip has O-Rings built into the mouthpiece this means that some of your own 810 Drip Tips won't fit onto the tank.
The airflow on this bad boy is on the bottom and is a massive cyclops eye that is super smooth to adjust, no stiffness at all. I love the airflow on this tank as you can have it as open or as restricted as you want. Fun for all the cloud chasers.
There are 3 different types of mesh sub ohm coil for the Odan:
0.18 ohms which is recommended to be vaped between 60-80w
0.2ohms which is recommended to be vaped between 50-60w
0.3ohms which is recommended to vaped between 35-40w.
The coils are push fit and you can replace coils with a full tank of juice thanks to the shut off design. When the coil is removed it pulls shutters down stopping the juice from escaping and when the new coil is inserted it opens those shutters back up ready for vaping, I absolutely love this design and it works extremely well.
Pros:
Push fit coil design with shut off valve.
Simple lift and push juice fill great for your larger short fill bottles as nothing gets in the way.
Super smooth airflow.
Outstanding Flavour.
Unique diamond glass.
Out of the ordinary colour choices.
Cons:
Airflow is loud when it is wide open

Verdict:
As you may have gathered already from the above review, I have nothing but good things to say about this tank. The flavour and cloud production at low wattages are just stunning. The look of this tank is beastly and I love that about it. It is by far one the best Sub Ohm tanks I have ever owned.
Geekvape Zeus Sub Ohm Tank:
Mustang's Rating: 7/10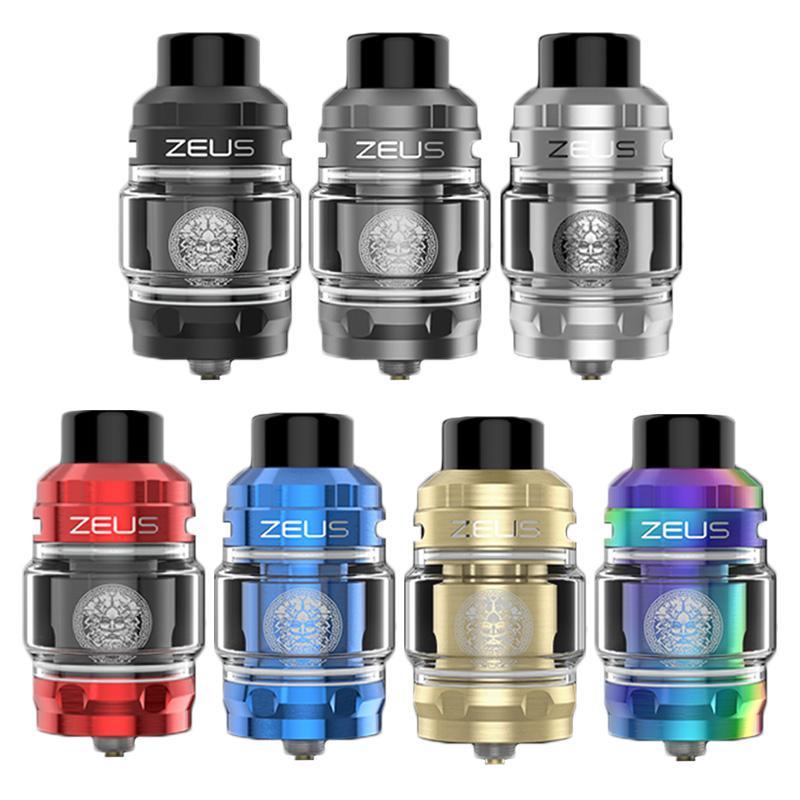 So, for those of you who know me will know that I own the entire Aegis range from Geek vape but I do not own this tank. I have however tried this tank so I will give you my honest opinion on it alongside other people's opinions too.
The Zeus Sub Ohm Tank which is 25mm at the base is again in the smaller category as far as sub ohm vaping tanks go. The Zeus comes in 6 different colours black, stainless steel, gun metal, gold, rainbow and finally blue. The Tank is obviously 2ml capacity because of the TPD ruling in the UK.
It is a sturdy looking tank. Very well made. The threading is nice and smooth from the get go and the finish on this tank is really nice. It really does look almost identical to the Zeus X RTA which is not a bad thing at all. Definitely a rebuildable tank to take a look at if you haven't. However the Zeus Sub Ohm tank takes prebuilt coils.
The tank is a very easy tank to set up. Everything unscrews easily which makes this very easy to install your coils as they are a push fit design. The top fill is easy to access with a decent sized filling port.
The airflow on this tank is at the top which will reduce any chances of leakage from the tank which is always a good thing. Please note the airflow is fully adjustable so you can find that your sweet spot for resistance but it is LOUD. I tried opening it and closing gradually to find a spot where the noise reduced but I couldn't find one.
The coils give off some great clouds and give really nice flavour. They will last about a week maybe 2 if you vape at low wattages and obviously that depends on the short fill juice you are using too.
Pros:
High level of build quality.
Great choice of colours
Visually appealing
Good Airflow
810 drip tip compatible
Good flavour
Good Clouds
It's Geekvape (may not be a pro to some people but for me it is)
Cons:
The airflow is so loud
Coil life is short
The tank is very thirsty.
Verdict:
I am a fan of Geekvape and I love the Aegis range and I was hoping I would love this. It is a great tank and I think anyone would be happy to own one and use it but it just didn't cut it for me. I can forgive coil life and noisy airflow but it didn't give me anything that my other sub ohm tanks don't already give me. The biggest advantage is how it looks on top on various vape mods.
If you are new to sub ohm tanks then this would be a perfect tank, if you already own tanks such as The Falcon or the Odan then this tank will not give you anything you don't already have.
WOTOFO - OFRF NexMesh Sub Ohm Tank:
Mustang's Rating: 9.7/10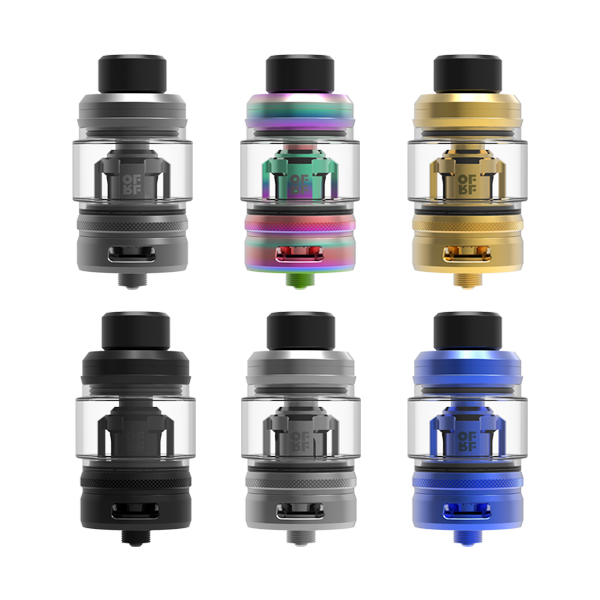 Being a fan of the WOTOFO Profile RDA and the RTA I was rather excited to get my hands on this Sub Ohm tank. I am still looking at acquiring one for my collection but I did have the pleasure of using a friends for a few days while we were away. It doesn't look out of place on the majority of vape mods. Its also very useful for temp control if you want to use prebuilt coils.
The NexMesh Tank measuring 26mm at the base making it compact but look a little larger on its feet than some of the other tanks listed here. The tank comes in 6 delicious colours blue, rainbow, black, gold, stainless steel and gun metal
The tank itself has a 2ml juice capacity and I have seen that you can get a bubble glass for this to increase the capacity but whether or not they are still available I am not 100% sure.
The tank is very sturdy and is very standard looking for a sub ohm tank. The threading on the tank is beautiful and smooth making it easy to take to pieces.
To fill her up you just slide the top cap and fill it up. Simple!
The OFTF NexMesh comes with bottom airflow that comprises of 3 airholes, different sizes and equally spaced apart. The airflow control is nice and smooth and it does have a stopper so it doesn't keep spinning round and round forever. I have not experienced any leaking from this bottom airflow which is always a good sign.
Both coils that come with this are Mesh coils which you'd expect with mesh tank name and there is not that much difference between them unless you are using the temperature coil specifically for temperature control vaping. I love to vape around 70w and both of these coils handled 70w perfectly and both gave great flavour and cloud production but my favourite coil is the 0.15ohm as this to me gives slightly better flavour.
I only used the tank for a few days but my friend said he changed his coils out after 2 weeks and he said he probably could have gotten longer out of them if he had reduced his wattage.
Pros:
Leak free
Build quality of the tank
Coils are great
Easy access fill port
Choice of colours
Amazing flavour
BIG clouds
Good Airflow
Cons:
My only con is that I will need to spend money to buy one of these ha-ha
Verdict:
So, would I buy one of these?? Yes, is my short answer.
I love mesh coils and the flavour that you get from the extra surface area and this tank does not disappoint.
Would I recommend this tank? Again… Yes. Easy to set up, easy to use.
WOTOFO recently seem to be pumping out some of my favourite kit. I hope they keep impressing me.
Ranked in order
WOTOFO: OFRF NexMesh Sub Ohm Tank - Mustang's rating: 9.7/10
Aspire Odan Sub Ohm Tank - Mustang's rating: 9.5/10
Freemax Fireluke 2 - Mustang's rating: A solid 8.5/10
Horizontech Falcon 2 Tank - Mustang's rating: 8/10
Geekvape Zeus Sub Ohm Tank - Mustangs rating: 7/10
Many people every month ask us the same old question what is the best sub ohm vape tank?
The simple answer is everyone is different what appeals to a large majority may no suit your vaping style or your specific mod. A great tank must be paired with a good quality mod. Quite often we see customers switch to newer mod's and pod kits and instantly see the difference in flavour and usage, even with the same tank! Check out some of the best vape deals here at TMB notes.
Some even ask what is the best tank for flavour?
Choose a mod with good coil life tank allowing. Everyone has a different vaping style and some tanks may suit different people better. Sometimes the hardware is to blame do you have a reliable mod with a good chip inside. This can effect the flavour in much the same way as tank design. Check out some of the best vape deals here at TMB notes.
Those early in their search ask are sub ohm tanks better?
It depends where along your vaping journey you are if you're at the stage of vaping 3mg juice through an MTL device or starter kit. It may be time to look at a small sub ohm pod system instead of mtl vaping. The cost saving alone might be worth it. But be aware it is a different vaping style and if possible may be better to try a friends first. Next we will take a look at the best vape mods your money can buy at the moment.
Remember that sub ohm tanks are not suitable for nicotine salt. You'd be better off with pod vapes for nic salt and high nicotine strength freebase liquid. Pod devices have refillable pods which you can either use with prebuilt coils or pre installed coils.
Vape pods and pod mod are some of the most cost effective devices you can buy at the moment. They offer excellent vapor production for their size and are comparible sometimes to mouth to lung tanks.Check out some of the best vape deals and vape kits here at TMB notes.